Our approach leads to quick collaboration, shortened timelines, and increased client satisfaction across all development and website maintenance services we perform.
We devise page by page content and a well-crafted conversion strategy before work begins. We couple those strategies to user pleasing interfaces and truly inspired visual design to produce the best website for you. Your site will be built on the best technology stack for your success whether that be Magento, WordPress, or another operating/Content Management System.
We build our sites to please Google too. This includes FAST performance on all devices, clean architecture, no bloat in the coding, and every site is optimized for search ranking prior to launch. If you are replacing an existing website we take the time to save you the ranking losses common in a website remodel.
We will train your team to maintain the website or maintain it for you. Our platforms are easy for you to manage. Long gone are expensive maintenance packages and 24-48 turn around times.
We are here to help when you need us but we also make our sites easy for you and your team to update and manage.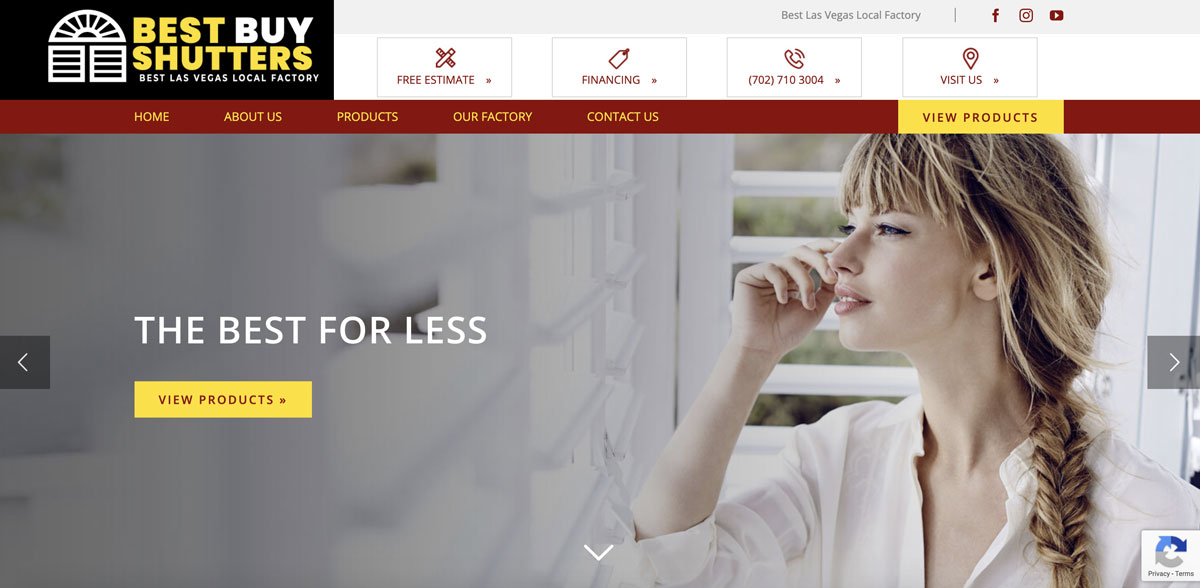 Client goals:
Garry expressed it best with, "It's got to look great and it's got to sell." Best Buy Shutters is known far and wide across the Las Vegas Valley for the highest quality shutters at affordable prices, delivered on time because they make them right here. We came together at a time when they were struggling to get a website to meet their visual expectations and to drive up the number of leads. They were in the midst of struggling to build out another new and now second website in less than a year. Making things worse, previous sites were loading very slowly and causing incredibly high bounce rates.
At the outset, we
Listened intently
Asked a lot of questions
Looked over the total landscape of what had been going on
Clarified their expectations and goals
Studied and assessed the competitive waters
Pooled materials available to us
Mocked up several home page and interior page design concepts to achieve the desired look and appeal
Sourced images
Shot custom pictures and video
Redesigned the logo
Devised a lead generation strategy around their unique benefits and their preferred customer profile
All this was guided and transformed as part of an overall plan to drive effectiveness by using paid search and paid social media campaigns scheduled to launch shortly after website completion.
The Result:
The client has a great looking website and a considerably higher conversion rate for traffic than in prior years. The functionality of use on both mobile and desktop is very "to the point" and loads quickly on all devices even though the content is image heavy.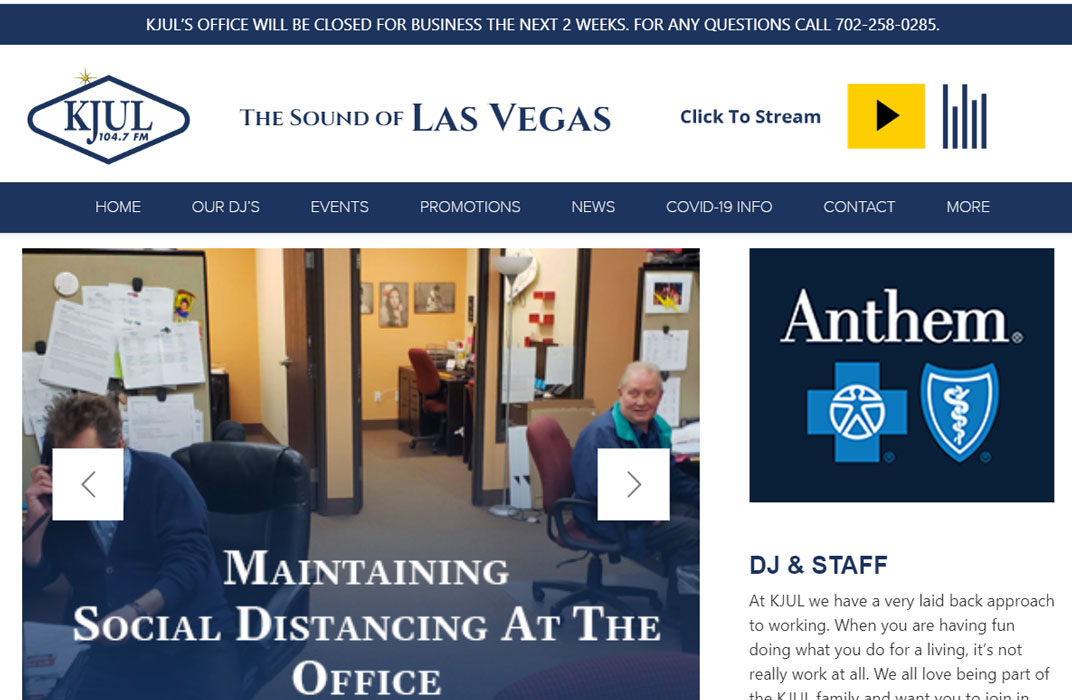 Client goals:
KJUL1047.com is one of three radio station signals locally owned and operated by Summit Media, Inc. Their well respected long-time owner, Scott Gentry, came to us in need of a new website to replace the mess a previous company had left him with: an incomplete site, difficult for his employees to operate, and out of touch with audience expectations. He wanted autonomous control and access and the ability to monetize the site. It had to live stream the station and promote station events, contests, and advertisers. He wanted it to look more streamlined than all other radio station sites and demanded ease of use for the senior target audience the station reaches. Intuitive navigation and readability were must haves.
Some keys to success their previous efforts missed were obvious:
Implement user analytics to quantify and qualify the audience
Increase visitor time on site
Decrease bounce rate
Create revenue opportunities
Increase advertising
Publish the current song and artist playing
Engaging people in their social media channels
The Result:
Launched right as the Covid-19 pandemic hit, KJUL1047.com immediately needed critical updating and revisions to sync the audience to information during unprecedented times of disease response and rapidly decaying economic and social systems.
We met the updating challenges and began streaming music, news, music, and information to thousands across the Vegas Valley and to southern Utah and California and to users around the world.
The typical Las Vegas radio station website is a remote arm of a large Wall Street media conglomerate, with content supplied by corporate offices detached from the community and the realities they pretend to serve.
KJU104,7FM's s website is designed for Main Street and it stands out as a very local, visual, and auditory voice of the community. It has been so well received that the owner contracted us to do the other station sites.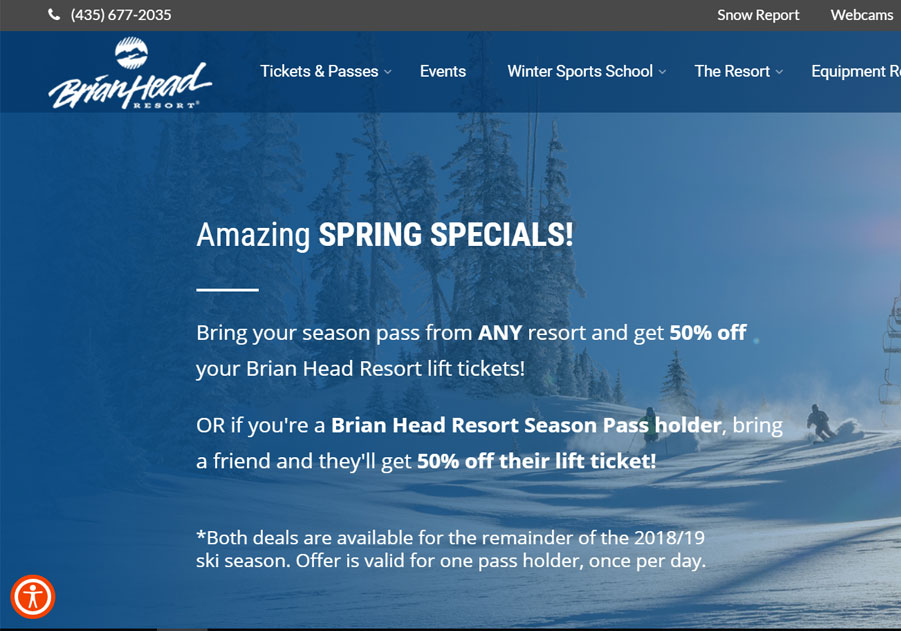 Client goals: 
Our client wanted to highlight ideal outdoor conditions and entice visitors to their luxury ski resort while driving traffic to specific lodging and retail partners. We accomplished this using fully integrated and TRACKABLE communication platforms. Over the last 4+ years, Brian Head has presented us with opportunities to serve them as their needs arise. 
The Result:
We have continuously serviced Brian Head Resort's needs by building two full websites, creating custom solutions and adding needed pages, content and functionality for more than 4 years now. Each time we have built sites for Brian Head, we collaboratively strategized experiences that built upon each of the client's previous sites. We created a customized WordPress theme and new content each time and refined the user experience each time.  The result is a streamlined look and feel that is both unique and highly functional while looking great on all devices. We also custom built a low maintenance, time-based tool that made it easy to communicate when lifts and activities were open and or closed. This tool alone saved more than 2 hours per week of website work for their team. 
User time on the website is up an average of 45%  according to Google Analytics. Conversions are up 174%!