Print is tangible media putting your brand in their hands in ways they can keep it, refer back to it, and share it with others.
The Best Print and Direct Mail Struggles in a Cluttered Market
Even when both are working for you, you likely need a better strategy, better design, and better conversion tactics to make it work.
Unlike any other market in the world, businesses in Las Vegas face the daunting task of competing for consumer awareness and attention in a  marketplace drowning in a torrential flood of casino gaming and entertainment offers. Casinos, home services companies, retailers and more battle heavily for "locals" thru direct mail and print, diluting its overall effectiveness and driving costs sky high.
We know print exceptionally well. From production to placement, when Notice U Marketing is on your team YOU WIN.
Rely on us for
Marriage mailers
Solo mailers
Specialty
Promotional items
Postcards
Catalogs
Coupons
Brochures
Flyers
Banners & signage
Newspaper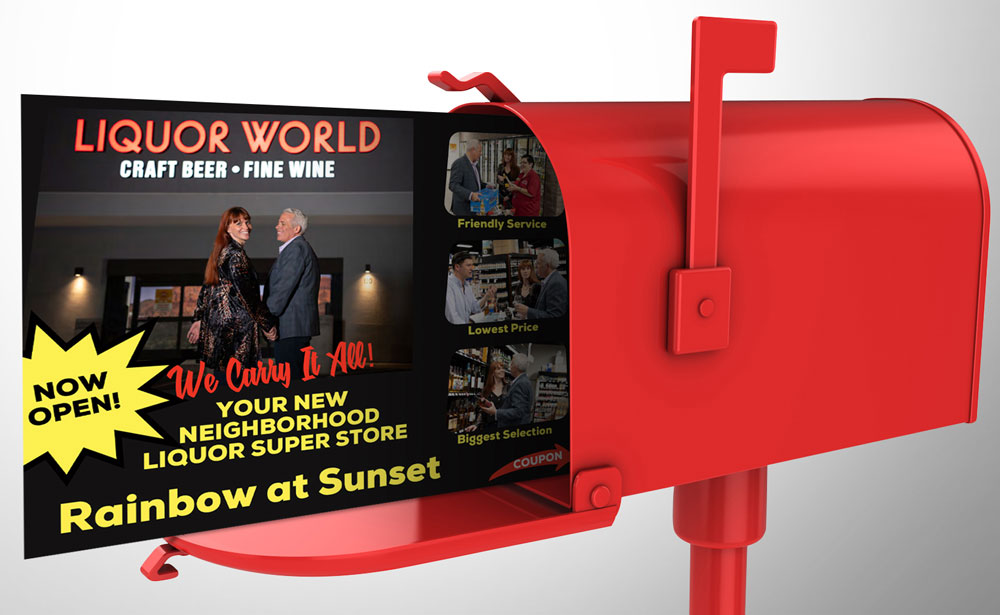 Delivering 254 Coupon Redemptions and $17,000 in Sales Using Direct Mail Over One Weekend
When Liquor World opened their 7th location at Rainbow and Sunset we put Direct Mail to work by targeting high value customers in the residential areas most adjacent to their store and people that would obviously use Rainbow and the I-215 as their primary arterial exit.
They had used Direct Mail prior to engaging Notice U Marketing with mediocre results. We were able to build a high impact piece, place and fulfill all aspects of this campaign including printing, pre-sort and delivery of the final mailer to the post office saving them $1,900 over their previous email campaigns.
Results:
Liquor World saved $1,900 over previous mail campaign mailing fees
Additionally Liquor World saved $1,500 in printing and design fees by going with Notice U Marketing
254 Direct Mail coupon redemptions in the grand opening weekend
We used this mail campaign to create email and SMS lists that extended the life new found customers