Challenge: Open two brand new restaurants during the Pandemic…
Standing in the dark one evening in 2019…
Stumbling through the musty former home of the Melting Pot in Boca Park, using our phones as flashlights, Ken and Kitty revealed their dream for Chinglish to us. Two years later they opened in the early days of the Pandemic.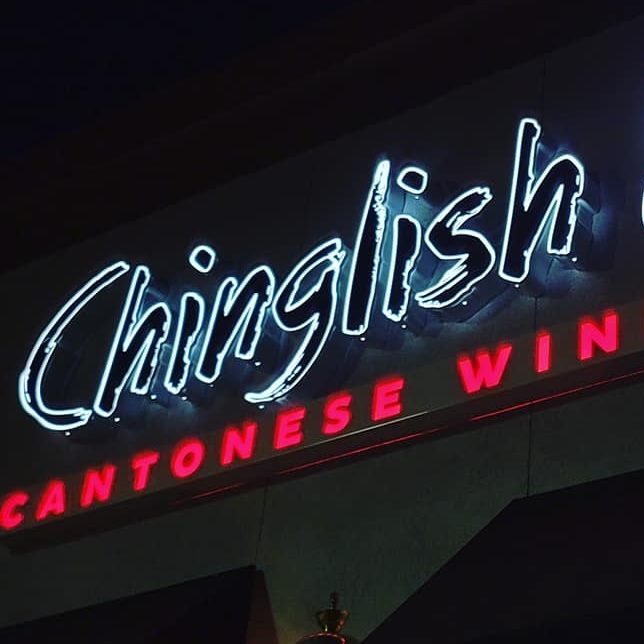 CHINGLISH IS FAMILY
While we are not related, the family operating Chinglish is family to us. From dinners at their home to a kid and crawfish filled trip to New Orleans, the Notice U family and the Chinglish family are tight. So when our family decided to open not one, but 2 restaurants we wanted to help. We did not know the opening was going to have the added challenge of a Pandemic.
Is this family connection why we go over and above to help Chinglish succeed? No, we do work at this level for all clients but it was just a little more meaningful to help our long time friends realize their dreams.
Family and GREAT food.
What makes Chinglish unique is family and GREAT food. Chef Lam makes dishes at a level that is unsurpassed for quality, flavor, and presentation. The fact that this food is not available anywhere else except in Vegas is special but also uniquely challenging.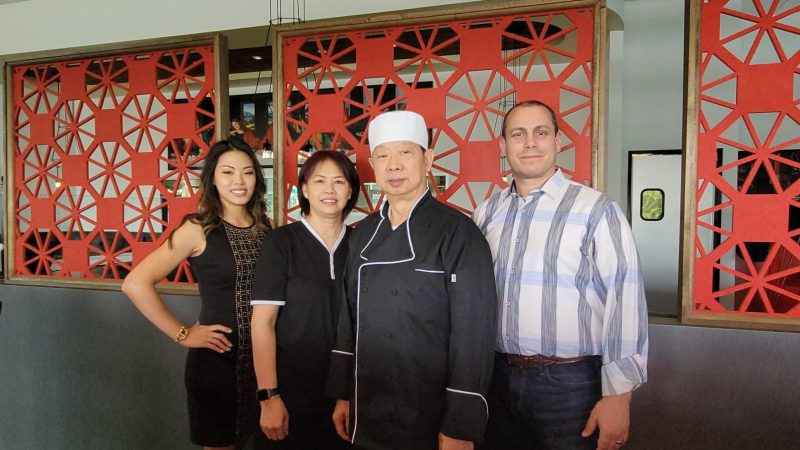 When Ken & Kitty set out to open a restaurant, they had a good location, GREAT recipes and NO IDEA a Pandemic was coming.
Construction was nearly completed when the Pandemic hit. Money had been spent, contracts signed. Two kitchens were built out and two dining rooms were nearly done. When things were allowed to reopen, Ken & Kitty were aboe to finsih construction and then some real challenges began to emerge. Most new restaurants just need to convince people to try them. In this case, people had to e convinced Chinglish was safe too.
Complying with Covid restrictions and convincing people to
The family owners of Chinglish Restaurant Group have the right ingredients for these two GREAT restaurants:
Chef Lam who has been making better Cantonese food than most people have ever tasted for over 45 years in Hong Kong and San Francisco.
A state of the art kitchen custom built for the Chef.
Caring owners who were foodies before they were restauranteurs who genuinely want to make a better all around dining experience for all of Las Vegas.
A community of people that love the family and want to see them succeed.
A unique take on restaurant service by offering Kosher versions of their recipes cooked in an entirely separate Kosher kitchen next door.
The Challenges:
Serving two highly discerning customer bases and earning repeated visits is no easy task. Opening and operating two similar but very different restaurants would be daunting to even the most seasoned restauranteur.
There is some innate confusion with a 4,200 square foot fine dining restaurant/wine bar attached to a Kosher quick service model serving similar dishes in name but different in preparation.
Boca Park is a crowded dining destination.
Summerlin is a diverse market that eats out frequently but they have more options than nearly any other part of town.
Like most restaurant owners the family behind Chinglish did not have time for creating incredible websites, launching Google listings, managing review channels, creating social media content and properly building the followers. Without Notice U marketing these vital business requirements would have been put to the back burner while operational concerns are worked out.
Notice U Marketing worked to alleviate the stress that comes with all things digital and allow the family at Chinglish to FOCUS.
The Details Of Services & Outcomes
Successful restaurant marketing takes a lot of precise work. Click here for details about our approach and their outcomes.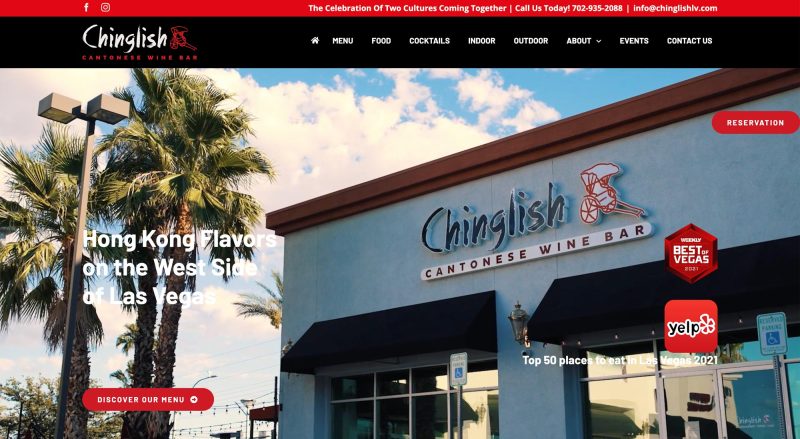 Two Brand New Websites At Launch
How is it to work with NoticeU Marketing?
Custom, high-touch service is just the beginning. Notice U Marketing does everything from conceptualizing full marketing programs to hand painting Menorahs on Kosher Chinglish's windows and Christmas Trees on the Wine Bar's windows. Jeremy later pointed out that in the first year his phone had hundreds more photos of Chinglish than he had of his own kids. Easy to do as he was there almost every day to building content stories selling the Chinglish experience.
When you want a highly committed team, you want Notice U Marketing.

From setting brand guidelines that applied to all social media and other marketing to writing and disseminating press releases, Notice U Marketing handled everything both restaurants needed.
We worked through a blizzard of changes and requests during the opening months that occurred almost daily. We stayed focused on activities that drove new customers in the doors, and stayed ever responsive to a wide variety of requests, even setting up the POS systems and online orderings systems.
In other words, we can and will help you achieve your goals too!
Let's Talk About What We Can Do For You.
Real Value, Real Wins.
Whether it be a call or a meeting we will come to that first consultation with REAL VALUE, real data and real solutions. You have nothing to lose.