Being a Real Partner to Liquor World
From Setting Grand Opening Records to Helping Them Navigate the Pandemic, Notice U Consistently Served the Needs of Liquor World.
No One Does It Faster or Better: The Grand Opening Challenge
Liquor World asked us to handle their first grand opening in the history of their company.
They gave us two and a half weeks to go from agreement to the mega-event! They wanted the largest turnout for a store opening ever: 1,000+ people.
Most agencies would consider this "mission impossible." Notice U delivered. We strategically planned all media and creative from build to placement. We hung off ladders in the dark of night to hang streamers and signage and hand sorted 85,000 direct mail pieces. The result is we delivered 1,120 people, making it the biggest grand opening week in Liquor World's history.
Like Details? Click Read More.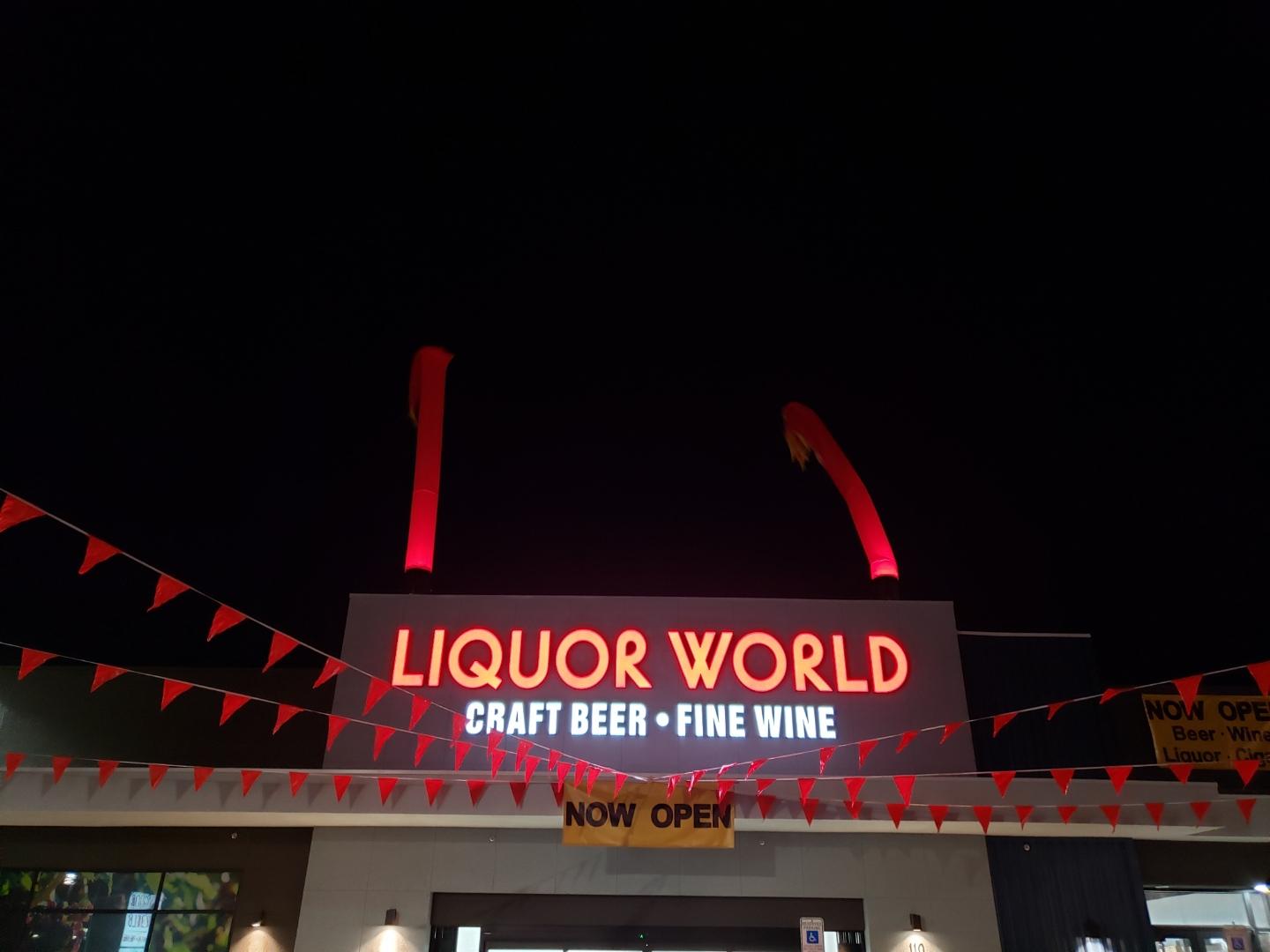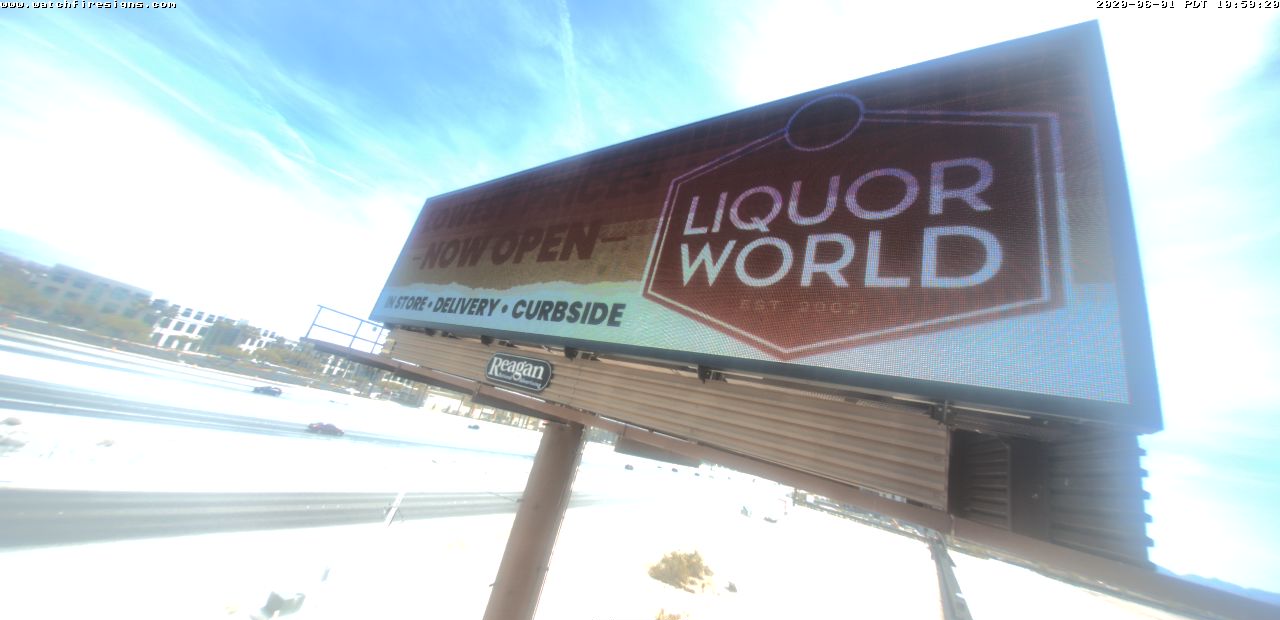 Time line:
Less than 3 weeks from word go to the event.
Media Used: 
Radio Ads and 2 radio remotes
Streamers from the light poles
Street level banners directing traffic
Dancing blow ups on the roof
85,000 direct mail pieces
Digital Billboards
Static Billboards
Exact target digital banners to mobile devices
Paid social ads
Local SEO to make sure the new store was found in Google
Notice U Services Used: 
Strategy and planning of all aspects of the Grand Opening.
Placing, negotiating and purchasing all media.
Production of all creative including video, static images, direct mail pieces and radio was purpose built by Notice U.
Planning, hand pre sorting direct mail, and delivering the presorted routes to each post office to save dollars and ensure we got in mail boxes at the right time.
Radio remotes were planned and manned by our staff to insure they would feel like events.
All signage and streamers were hung by Notice U.
We were present for more than 12 hours of the opening weekend to ensure everything operated to plan.
We wrote the press releases, delivered to media outlets and followed up to get to coverage of the event.
Unique Challenges Met: 
In less than 3 weeks, we fully executed a large scale, multi-media, grand opening event entirely in-house.
Met a 1,000 person minimum for attendance, delivering 1,120 people through the doors.
Come up with all creative from scratch – this includes look and message. All we started with was a logo.
Meet creative deadlines to have ads out and up on time.
Hung all streamers and building banners
We had a relatively low budget which we stayed under
This Grand Opening had lasting effects: 
The biggest opening month sales in Liquor World's history.
The most well attended, highest revenue opening weekend in the 7 store history.
The store store quickly became the chains sales leader overall.
Notice U Marketing are Real Partners:
We take pride in the fact that from the time we were given the word go, we sprang into action working overtime and pressing each other to beat deadlines, do our best work and never say "die." When no one was available to hang the streamers from the many 75 foot tall light poles in the parking lot, Notice U rented the lift, came out on a cold windy night and called it therapy to overcome our fear of heights.
We did not count hours. We only counted the success. 
Huge ROI on Direct Mail & Coupons
Direct mail is some of the priciest advertising based on cost per thousand so it is imperative that it works! How do you make Direct Mail work?
Impactful Creative + Great Offers + The Right Mailboxes = Success.
What drives Direct Mail efficiency most is the reduction of printing, processing, and postage associated with it.
We Did It! We performed multiple Direct Mail campaigns, and all beat the industry redemption average of 1%. Some reached as high as 3.6%. Most importantly we saved a huge amount of money, delivering each piece for under 29-cents.
Here's how:
Liquor World had run Direct Mail off and on for years. They had previously only tracked success with numbers of coupons redeemed. They had also seen costs as high as $1+ per delivered piece. They had concerns that existing customers were the largest users of the coupons, costing them lost sales revenue.
Notice U Marketing got involved and delivered vast improvements: 
First, we worked with the new POS system and the Management of Liquor World to come up with tracking codes giving Liquor World to compute real ROI and see how many coupons drove new customers.
Second, we personally worked with the post office to come up with big money saving opportunities.
Third, we developed all creative in-house which included original photography, art, and layout. We worked with Liquor World management to make smart offers that were built to increase order levels from existing customers as well as incentivize brand new customers.
Fourth, we negotiated some killer print rates and delivered extremely high quality final print pieces.
Fourth, we hand pre-sorted, hand counted, and hand labelled the entire 100,000+ mailings. This move alone saved Liquor World thousands of dollars in mailing fees.
The Results:
The digital tracking of the coupons saw a dramatic increase in:
Size of orders from any existing customers using the coupon went up dramatically. We saw spending increases of 200% in many cases.
New customer acquisition was outstanding at  72% of the coupons received.
What's more, new customer retention rates were measured at 40% delivering a big Customer Lifetime Value benefit.
With the reduction in costs and the tracked increase in sales the benefit of Direct Mail went from an unknown to known. The medium became a managed tactic that continues to build Liquor World's success.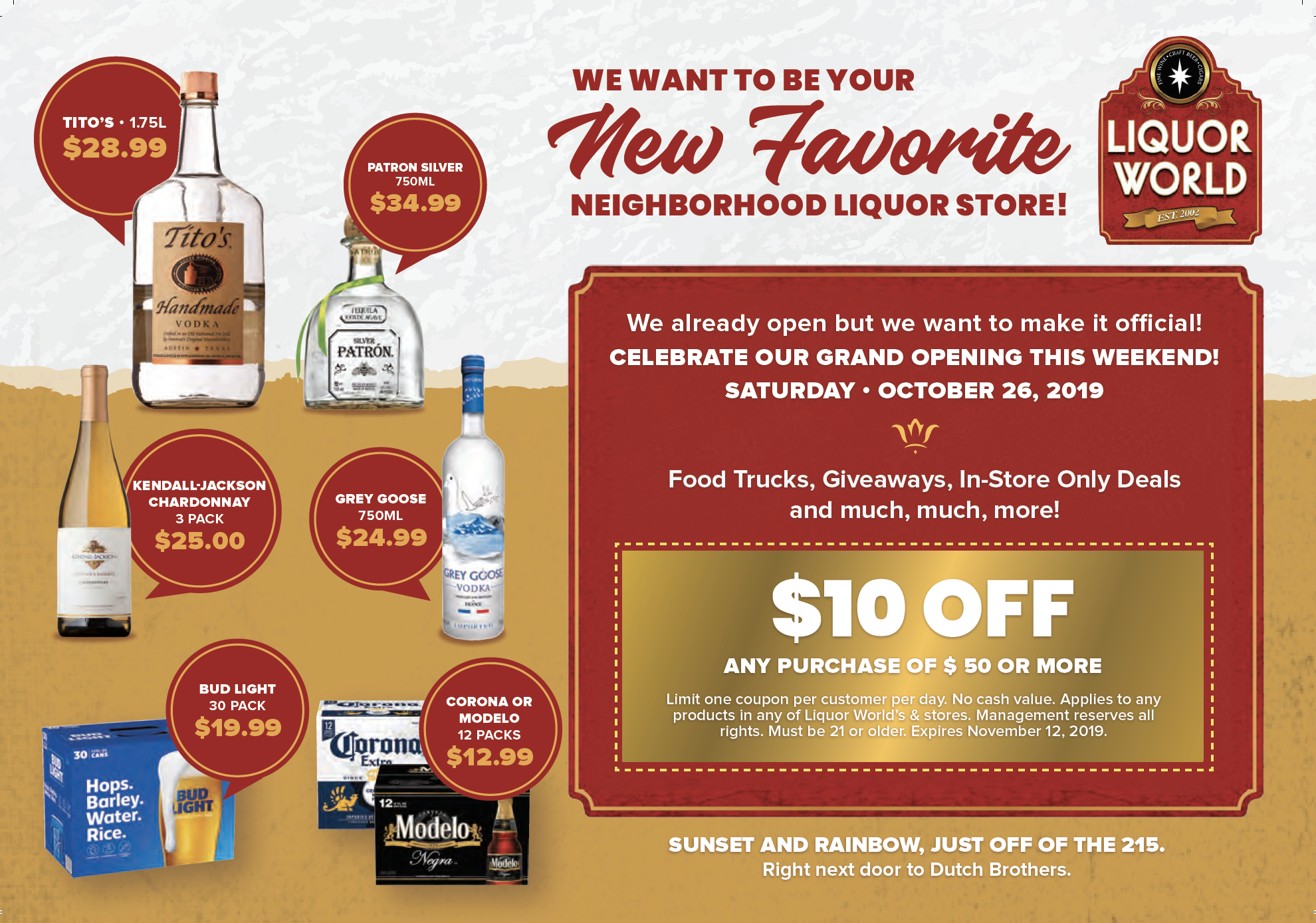 Covid 19: Turning Problems into Opportunities
Captive Audiences Gave Us the Way to Help Liquor World and People.
The Pandemic hit Liquor World hard. Declared a non-essential business, they were forced to close 7 stores. Like many, they were very much at the whims of frustrating and sometimes non-sensical mandates. Notice U Marketing did everything we could to navigate these challenging times of closing to opening and to closing to opening again. Liquor World was full of essential supplies people not only wanted but needed, so we created and hung signage and managed customer messaging to drive curbside pick up and for the first time in the history of the liquor industry in Nevada, delivery.
There was a large captive audience stuck at home and spending inordinately high amounts of time on social media and TV. This was occurring while time spent with these medias was way higher than ever before. And advertising demand was thinner than ever before. Few businesses were opened and those that managed to be were experiencing cratered revenues and slashing advertising budgets!
At one point Liquor World was finally allowed to start delivery. Knowing how much time on cell phones had grown, Notice U recommended social media so we could easily get to market first.
With media personnel sequestered at home, camera crews were impossible to come by. So, we shot videos with phones, sending quality footage to professional video editors working at home.
When it became clear Liquor World was going to be allowed to reopen to the public, Notice U again looked for ways to get to market first and effectively. We took advantage with very inexpensive TV rates, rapidly put together a professional grade commercial, and launched a heavy rotation of spots. We launched media on the first day of reopening. This was the first TV campaign ever run in the history of Liquor World. And we went from concept to on-air within a matter of days.
It worked! Our creative and messaging took full advantage of TV and social streaming to reach captive audiences inexpensively and very effectively. Our creative played well and truly appealed to frustrated and abandoned audiences and customers in Las Vegas.
When people were allowed to return to some semblance of normalcy, results continued. Orders came in quickly. Social Media blended with TV paid off as every location in the chain achieved new sales records.