We do Social Media with a purpose.
We put the great aspects of Social Media to work for you and save you from the dismal aspects of Social Media.
From managing content and message to devising a high converting eCommerce marketing campaign, we do EFFECTIVE social media across any and all channels. Our goal is to strategize exact KPIs (Key Performance Indicators), create desirable outcomes and use each platform in an integrated and strategic way. 
We do the graphics, aim the cameras, shoot the video, wordsmith the post, answer the comments, and strategize the path to your WIN.
Managing Your Social Voice
Social Media has to feel authentic and organic. Good Social speaks to who you are and who your customers are. It should create a community and tell your story. Even in a world where Facebook won't show your post to your followers unless you pay up, it is very possible to rise above and engage. We work with you and your team. We stay involved in your business so our postings FEEL authentic because they ARE authentic.
Managing Your Paid Efforts
Social has the greatest capability of any media in history to generate desire for your product or service with exactly the customer you want to reach. It can also make you look like a reject from clown college. "Posting to post" or "posting and hoping" are not true strategy. We build you a strategic program, drive the program and constantly optimize based on the waves of data we track.
Some methods and services we employee for you
Influencer marketing – using the right influencers doing productive work for your brand.
Custom content-driven postings timed and targeted correctly.
Brand protection in times of trouble.
Overall marketing strategy integration (where and what Social Media fits).
Video, photo and graphic content production
Social for SEO ranking – We devise strategies that use Social to raise your search ranking
Research and analysis – Spotting trends and devising how you get a head of them
Competitive thrashing – Like a skateboard competition but in Social Media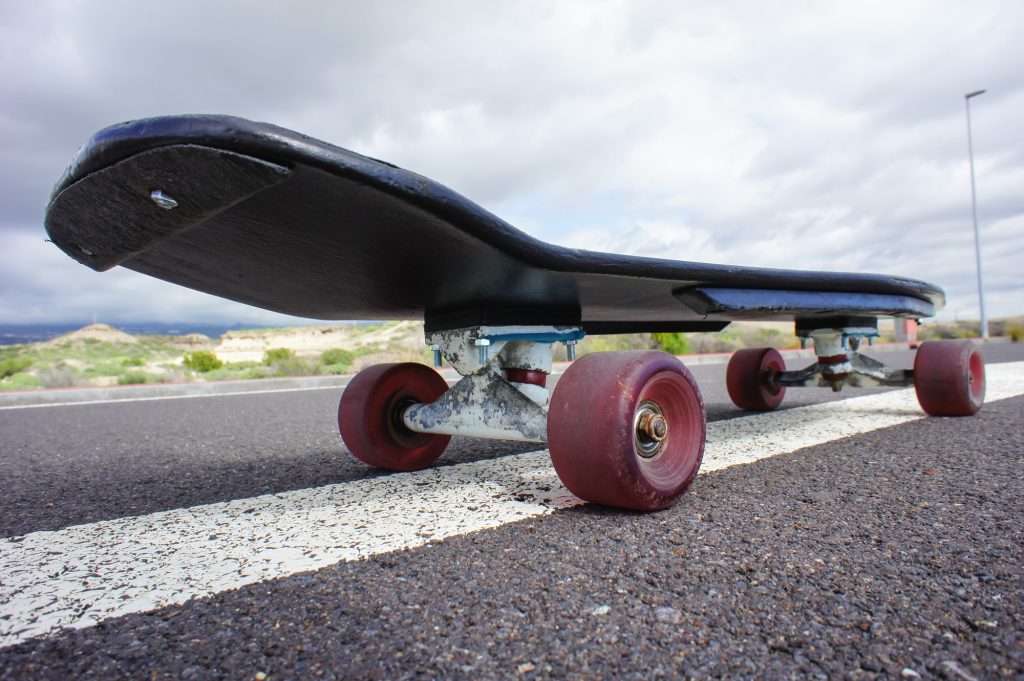 Responsiveness: We take pride in how fast we were able to respond to client needs. We handled the Covid-19 crisis social media messaging throughout the closings, openings responding to the substantial changes to rules and procedure mandated by the Government. 
Creative: We custom built dozens of creative elements including videos, images, memes and other messages to raise engagement by 1,000s of comments, likes and shares each month. 
Baldini's Casino – Social and Exact Target Marketing
We wanted to push ticket sales for Baldini's key monthly events. We installed a ticket engine on the website and on Facebook and launched with Fleetwood Mask, a Fleetwood Mac cover band playing live in March 2019.
Facebook Strategy: Paid and organic postings targeted to Classic Rock fans and known casino players inside a 10 mile radius around the casino.
Build CONVERSION event pages: Event pages that include a ticket window so people can buy tickets right there on Facebook. 
Exact Target Strategy: Drive a targeted social media boosted post and paid ad campaign targeting primarily Classic Rock fans and known casino players inside of a 10 mile radius around the casino. We also used location data from mobile devices that confirmed people were in competitor casinos, combined with their propensity to like Classic Rock.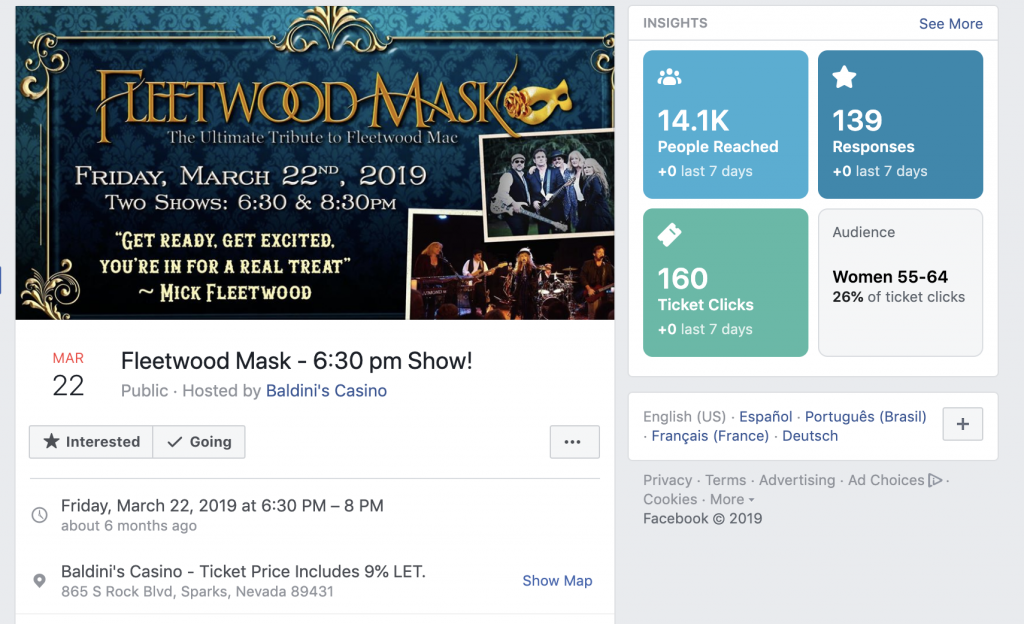 Results – The Facebook Campaign:
71,000+ impressions delivered to Classic Rock fans in the Sparks/Reno area

577 clicks to learn more

163 engagement (likes, shares, comments)

44 ticket transactions (multiple tickets sold) directly on Facebook
Coupled to an Exact Targeting Campaign:
176,000+ impressions delivered to Classic Rock fans known to have been in competing casinos in the last 3 months, living in the Sparks/Reno area

571 clicks to the website

.32% click through rate (.12% is good)

79 tickets sold on the site for the first time ever (30% of all tickets sold to the event)
Results –

Both Shows Were  Sold Out!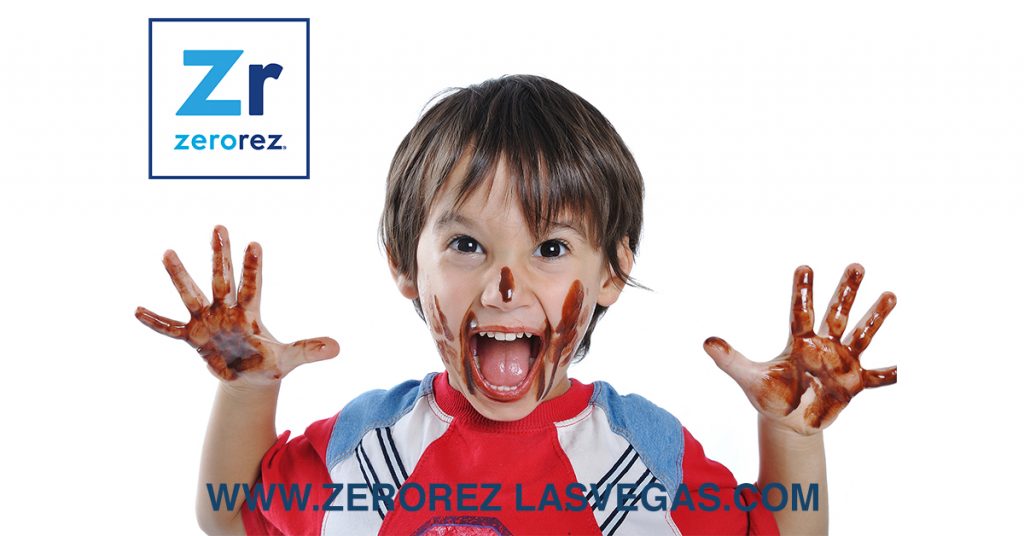 For Zerorez we focused on the smarter sex:
Moms like their babies to play on clean carpets instead of dirty carpets. Moms spend more than 3 hours and 31 minutes a day on Social Media…. We hope that's not all in one sitting.
Partner Content & Linkage: Using relationships like the one Zerorez has with Mercedes in the Morning and sponsorships in media and TV to drive extended reach into untapped Social Media markets, increasing engagement. 
Targeted Paid Media Spends: We augmented an existing plan to increase performance. We gave data driven wheels to a program designed to reach out to facilities managers and boost leads from commercial clients.
Lots of Custom Content: We shot videos, staged carpet clean ups, followed a cleaning team through a job, video taped pugs tearing up carpets and much more to entertain and inform followers of the audience and people that were reached through targeted, boosted posts.
Conversion Tracking: Leads are always important so we devised and implemented conversion tracking mechanisms to track clicks, calls, and leads generated by Social Media.
The Results:
$2.60 average cost per click of this campaign versus the average cost per click in Google Ads of $25+ was traffic at a big discount.

Over 30 phone calls produced and tracked in the initial 10 day period

Looking at the month of September we reached 49,791 people who are homeowners with kids at home living in Las Vegas. For every $5.90 spent we reached It had a cost per 1000 homeowners with kids, a metric much less than most any other targeted advertising media. 

188 engagements over month prior