Be Top Of Mind With The Right People Right Now
Reach people ACTIVELY shopping right NOW for exactly what you sell. We use REAL data and EXACT TARGETING to put you top of mind in the discovery and shopping phases, giving you the best chance of winning the sale.
Using exact data such as the user's physical location, shopping history, known purchase intent, consumer indexing, and other known aspects to target the 1 – 4% of people most likely to purchase what you sell in the coming days.
This marketing approach eliminates wasting money, allows you to target people more likely to buy from your competitor, and change their minds while using much more effective messaging and timely offers.
Some examples of how this has performed recently
For a Local Las Vegas Car Dealer, using App-based device tagging we captured 7,778 devices at competing auto dealerships.  Understandably these are shoppers our client badly wanted to reach as they are clearly in the market for a car and likely to buy soon.
We tagged those devices and then delivered 108,000  custom tailored ad messages with offers that screamed "Better Deal on New Cars" to these likely buyers.
The results were 571 devices captured at competing dealerships that came to our client's dealership after seeing these ads: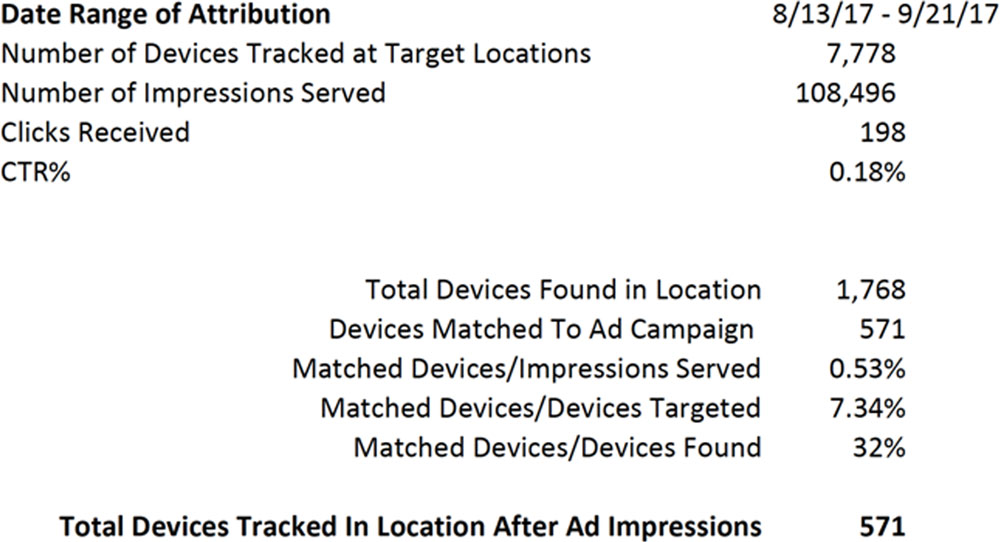 For Brian Head we used a combination of targeting mechanisms:
Device ID: We used captured device data from competing ski resorts from last year's ski season. These are devices known to be on the slopes last year.
Retargeting: We retargeted past Brianhead.com website traffic. People already familiar with the brand are more likely to click and book a package.
Demographics: We targeted known skiers and outdoor sports enthusiasts with higher than average incomes.
Intent: We targeted people known to be shopping for ski vacations and/or Utah ski vacations.
We then delivered a multi-media strategy:
Native Ads: Ads that look like editorial and truly tell the story. In this case the story was how to enjoy the greatest snow on earth for less money.
Banner ads: These are top of mind awareness generators. Visible on all devices through websites and apps, we used a variety of messages and offers to keep Brian Head top of mind and earn clicks.
Video Ads: We delivered Brian Head's video advertising message and offers through website and app channels in content that our target audience viewed.
Email: We used email to effectively park "can't lose" offers in these people's inboxes.
The Results:
4.8 million targeted impressions delivered to known skiers and ski vacation shoppers

12,778 clicks delivered to the website

An average .29% click through rate

Emails had a 12% open rate and a 1.3% click through rate

293 Measured conversions at the site level

The time on site: 1 minute 21 seconds
Baldini's Casino – Social and Exact Target Marketing
We wanted to push ticket sales for Baldini's key monthly events. We installed a ticket engine on the website and on Facebook and launched with Fleetwood Mask, a Fleetwood Mac cover band playing live in March 2019.
Facebook Strategy: Paid and organic postings targeted to Classic Rock fans and known casino players inside a 10 mile radius around the casino.
Exact Target Strategy: Native ads and banner ads targeted Classic Rock fans and known casino players inside of a 10 mile radius around the casino. We used data from mobile devices that confirmed people were in competitor casinos, combined with their propensity to like Classic Rock. 
Results – The Facebook Campaign:
71,000+ impressions delivered to Classic Rock fans in the Sparks/Reno area

577 clicks to learn more

163 engagement (likes, shares, comments)

44 ticket transactions (multiple tickets sold) directly on Facebook
Results – The Exact Targeting Campaign:
176,000+ impressions delivered to Classic Rock fans known to have been in competing casinos in the last 3 months, living in the Sparks/Reno area

571 clicks to the website

.32% click through rate (.12% is good)

79 tickets sold on the site for the first time ever (30% of all tickets sold to the event)
Results –

Both Shows Were  Sold Out!