Be Top of Mind at The Trade Show…
DESTINATION MARKETING
TRADE SHOW STYLE
How do you stand out in a sea of 500 or more booths filled with eager competitors and avoid spending a fortune for things like premium aisle endcap space? More importantly how to you get remembered when attendees go back home after the show? We used Exact Targeting & email. Here's the story…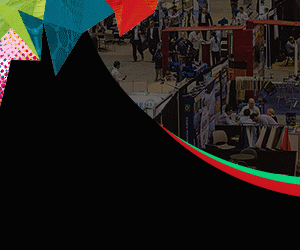 Why This Program Works
If you have ever worked a booth at a tradeshow you may know how it feels to have zero recognition. Worse is knowing you have been completely forgotten by the time a would-be customer turns the corner to the next aisle.
If you're in the business of selling anything you have thought of answers to questions like:
How many touches does it take to get top of mind awareness?
How many touches does it take to get first choice status?
How many touches does it take to equate a sales person or a product with a need or want in the mind of the buyer?
Trade show booths put you in front of active customers. The rest is up to you.
The benefits for Ed and E Squared were "The Touches" this campaign generated!
Ed's customers saw his emails before the show.
Ed's customers saw his ads on the floor of the 3 day show and while out and about or back at their hotel.
Ed's customers saw and likely met him at the show.
Ed's customers talked to him at the show about their needs and his products.
Ed's customers saw his ads before and AFTER talking to his competitors.
Ed's customers were reminded of what they talked about when they saw those ads.
When someone went to our client's booth, Ed had a head start. He might have already made 20 touches before customers even met him.
The guys around him likely had zero touches before and after someone passed by their booths. Worse they were likely forgotten by the time the would-be customer turned the corner.
Not our client!
The goals of this promotion:
Increase the touches from the show.
Gain share of mind.
Stop attention diversion by competitors.
Stay top of mind.
Be remembered by a buyer after the show.
Get anonymous Device IDs tagged at the event and now re-market their owners back home.
Awareness and traffic at the show were certainly goals… But being remembered – Being top of mind after the show – Are the real wins!
Everyone Is on Their Phone…
A combination of Geofencing and Device ID targeting to put E Squared on those phones. Device ID targeting allowed us to put immediacy ads on show attendees' phones and offsite at their hotels and at other events too.
Ads were delivered to devices inside of websites, games, and other distractions attendees commonly pursue when bored at a show.
Even when their heads were down staring at a screen, across the hall, these ads made sure they saw E Squared at the show.
Booth Space Is Expensive, Banners Are Not…
Whether a show is huge or tiny, our combination of email targeting, Geofencing, and Device ID targeting can scale to the size of the show.
After the show we can do even more marketing to WIN:
We can extend targeting campaigns for weeks and months after the show to remind buyers that Ed was the most important contact they made at the show.
How is it to work with NoticeU Marketing?
Standing out in a show full of customers AND competitors takes a plan of attack!
E Squared and Notice U Marketing started planning months in advance.
We reduced client stress.
We delivered new ideas.
We flushed out creative.
We found ways to reach his target market.
We saved money.
We Got him top of mind in a crowded room full of "me too's."
We can help you achieve your goals too. Let's talk!
Whether it be a call or a meeting we will come to that first consultation with REAL VALUE, real data and real solutions for FREE. You have nothing to lose.