Lead Gen and Conversions are Paramount
These sites are built to convert traffic to leads. Conversion mechanisms include phone calls, SMS text messaging, Facebook Messenger, forms, chat tools, and more.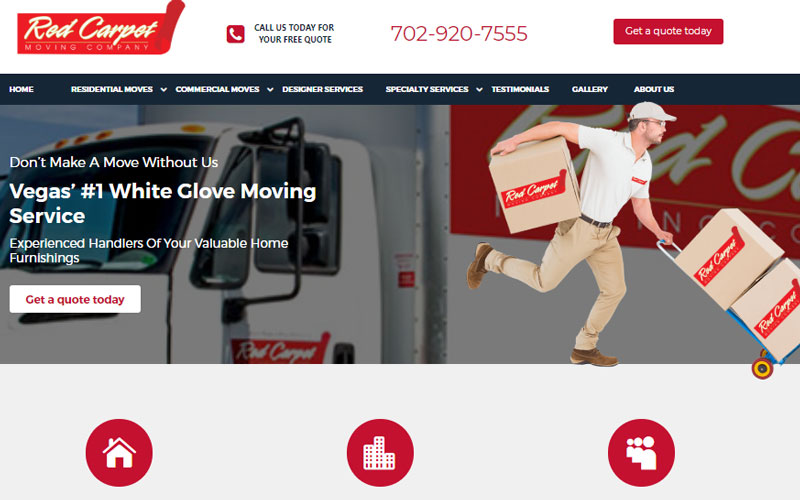 RED CARPET MOVING COMPANY
Red Carpet Moving needed a modernized site to showcase the vast array of services they provide. Particular focus needed to be placed on their high-end white gloved services and the long term trust they have with upscale major clients like Restoration Hardware, the Palms, and other notables such as Dana White of UFC fame.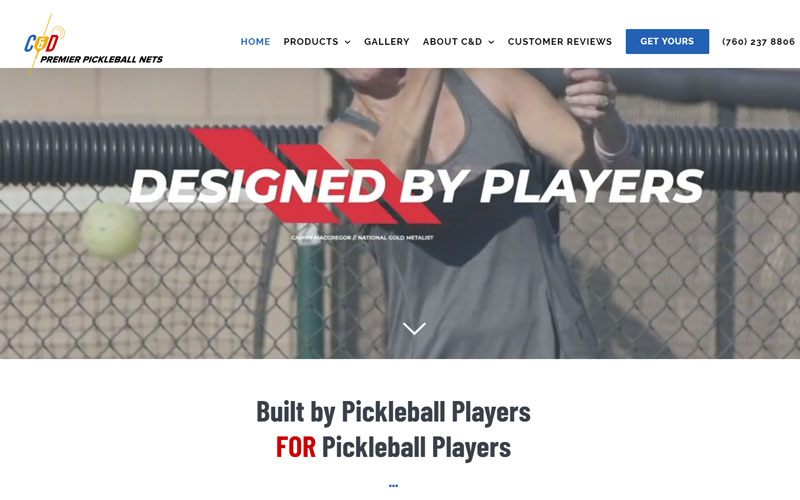 C&D Premier Pickleball Nets
The sport of Pickleball is heating up across the nation. Cammie and Darrin of C&D Premier Pickleball Nets make the highest quality nets right here in the USA. After significant grassroots success they solicited us for a full branding build-out which included logo, business cards, brochures, signage, and website. 
Edward M Bernstein & Associates
The personal injury attorney category is absolutely the most competitive landscape in digital search marketing. We took over Ed's site and did fast work to optimize all aspects of it from speed and search engine optimization standpoints. Load times came down to one second or less and rankings came up in key search terms such as "car accident lawyer." We also built a robust custom Driver's Education sample test to back up a new driver's marketing initiative. Data science, tracking and conversion based optimization have been the major thrust since day one with tests and improvements made monthly. Most recently we added an SMS based chat tool and conversion from chat to leads have seen a 30% increase.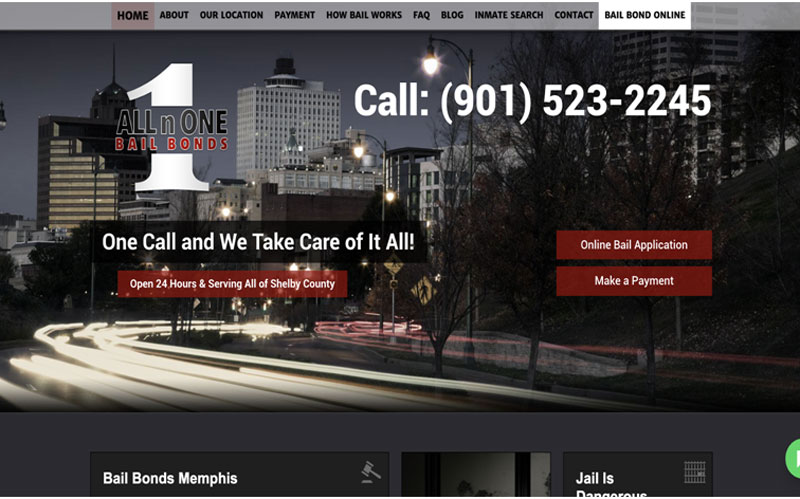 All N One Bail
In mid 2018 Google banned bail bonds companies from marketing their services in Pay Per Click (AdWords). All N One relied heavily on Pay Per Click ads for the bulk of their leads. With this change their only chance to maintain lead flow was to increase organic search ranking in Google. Before our work began, the site was challenged by not working correctly on mobile, conversion was slow and cumbersome and Google could not crawl the site correctly.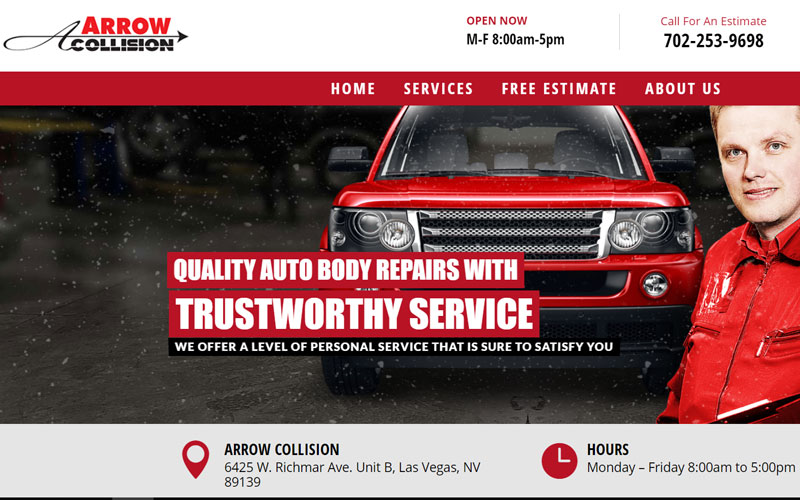 Arrow Collision
A Arrow Alignment is a highly recommended and well known auto repair company in Las Vegas. When they decided to expand into collision repair they needed a new brand and lead generating website designed. We modified the recognizable logo of the alignment shop and set about making a high quality website that works especially well on mobile.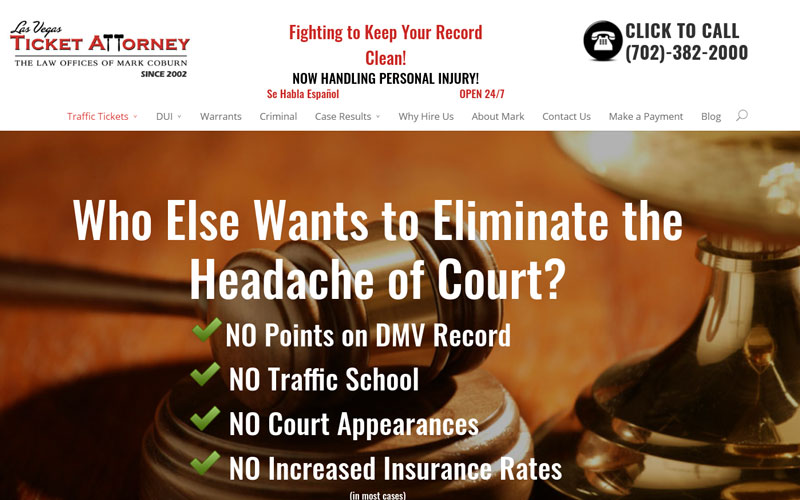 Las Vegas Ticket Attorney
Client was spending too many thousands of dollars a month on Pay Per Click marketing as a direct result of losing their top level Google search ranking. They were buying clicks in a vain attempt to make up the shortfall in organic clicks. They had low conversion from the clicks they were getting, especially on mobile devices where the look and feel was cumbersome and a big turn off for users. We redesigned a higher converting, much more Google friendly, and mobile ready website. We sourced all brand new photo imagery, wrote a lot of content, and structured a much better performing website.
Convincing people to enter the building is key. Providing enough information and imagery to make your business the destination of choice is the magic.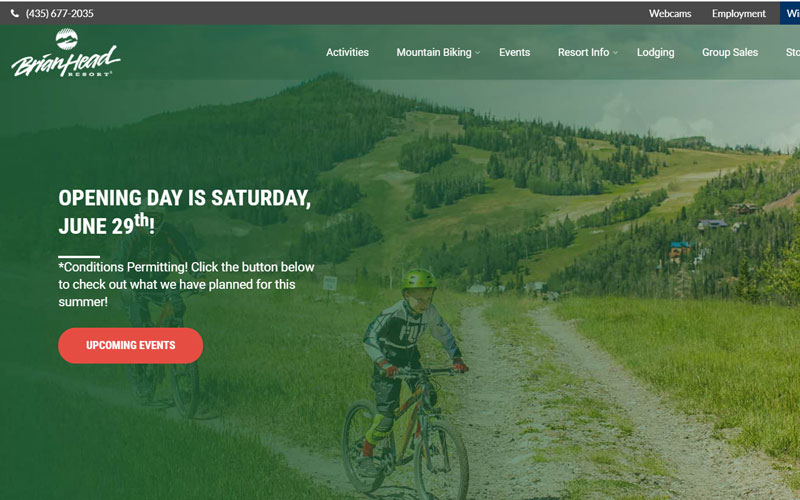 Brian Head Ski Resort
The Ski Vacation Industry is very competitive. Brian Head depends on pulling travellers in from Las Vegas and Southern California to insure its success. To that end we built a very clean top quality, gorgeous site that does a great job of "show and tell" for Brian Head advantages over other ski resort choices. It is constantly being worked and reworked to be fast and high converting. It is a big part of the record attendance Brian Head enjoyed again this year 2018/2019 on top of the one we set the previous ski season. Transacting through lift ticket sales, as well as supporting local lodging partners, are important Key Performance Indicators on this project.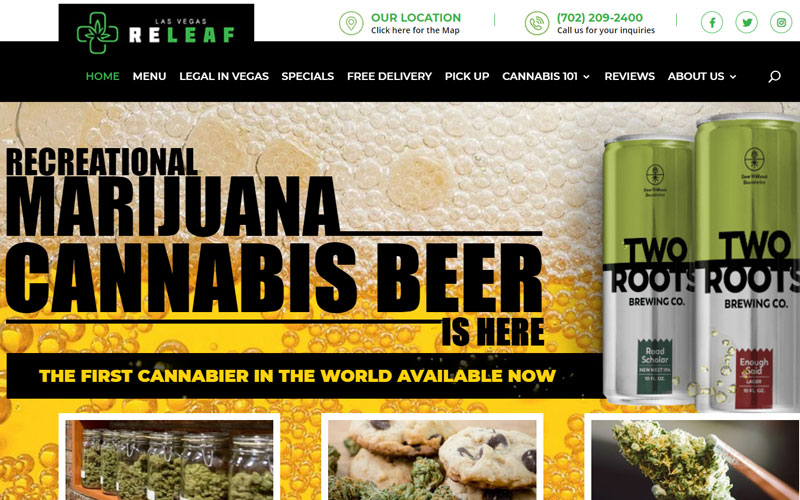 Las Vegas Releaf
Las Vegas ReLeaf began business as one of the first medical marijuana facilities in the city. When recreational use became law, ReLeaf needed a site refresh that consumers, primarily tourists, would find engaging and informative. We focused on coming up with a look that set them apart as well as making it easy to shop and come in. We launched brand new technology including Lyft and Uber buttons that when clicked, open the apps on the consumer's phone with ReLeaf pre-programmed in as the destination.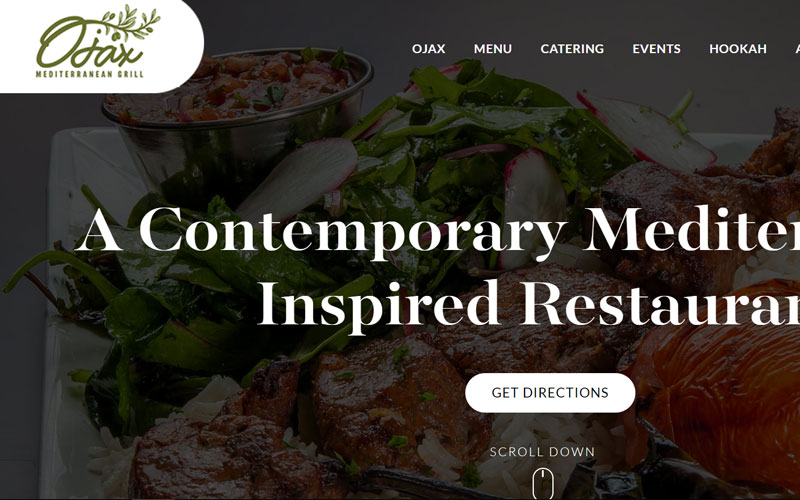 Ojax Vegas
Ojax Restaurant came to us via a referral. As a brand new restaurant starting up they needed an image to reflect high quality food and the gorgeous facility they had built. We developed their logo, menus, and other physical branding images, as well as launched their Google, Yelp, and other listings. We built a top quality site with emphasis on attracting visitors from the Strip, as well as earning and keeping a very loyal local following. We professionally shot over 600 photos of food to showcase it in the online picture menu.
Sites that provide an informational portal for your current customers and prospective customers. Good presentation of material and lots of content are keys to success. People have short attention spans and finding what they are looking for quickly and easily is crucial to the User Experience.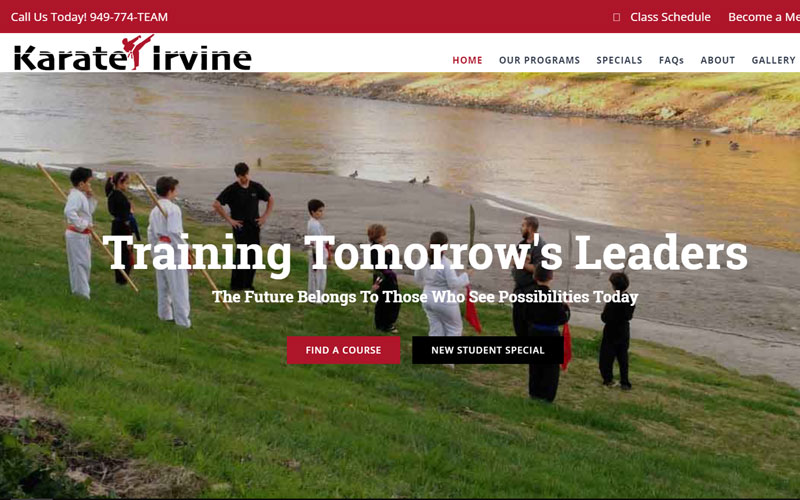 Karate Irvine
Karate Irvine is one of the oldest and best martial arts schools in Southern California. After spending a couple of years with a turnkey, templated website provider (MoPro), Karate Irvine's search ranking and conversion were spiraling downward. We were called in to build a fast, search and video friendly website to showcase all aspects of their unique and powerful training programs.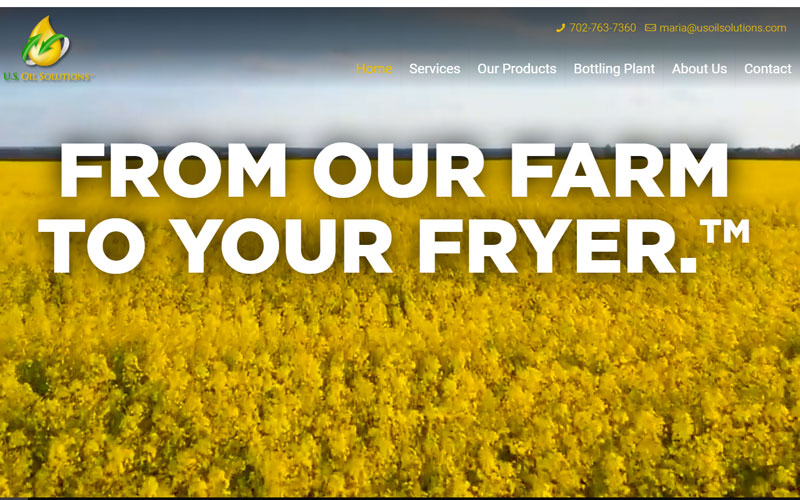 US Oil Solutions
This is the area's foremost company for providing fresh large scale, quality, affordable cooking oils and servicing its waste removal for restaurants, casinos, and food-service industries. The primary purpose of the site is to demonstrate the significant improvements US Oil Solutions makes for a food service business' bottom line. The build is to reflect US Oil Solutions industry-leading, technologically and advanced, sophisticated offerings.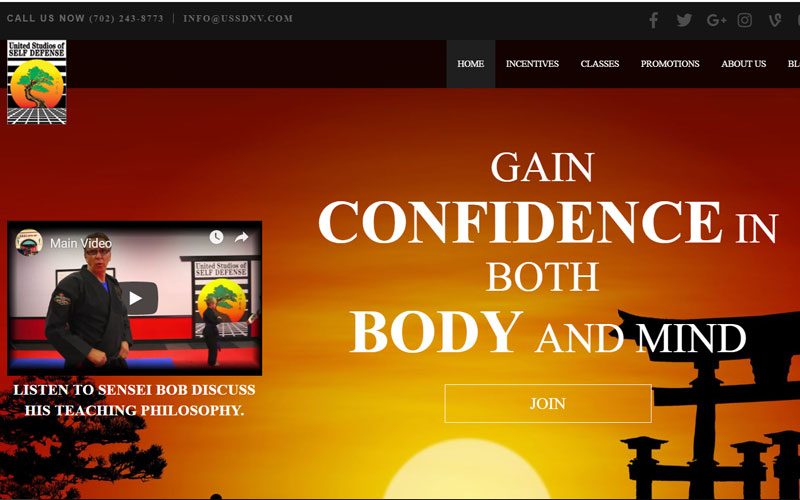 United Studios of Self Defense Las Vegas
Client wanted a very unique, custom design that would set them apart from all other dojos in Las Vegas. They wanted it to feel like a movie set and needed it to present well for Google search engine performance, keys for their marketing plan. Parents and kids are the primary targets, so it had to be fun as well as informative. We spent gargantuan hours on custom graphics throughout the website, added motion, while keeping it thin on bandwidth to make sure it still loaded fast.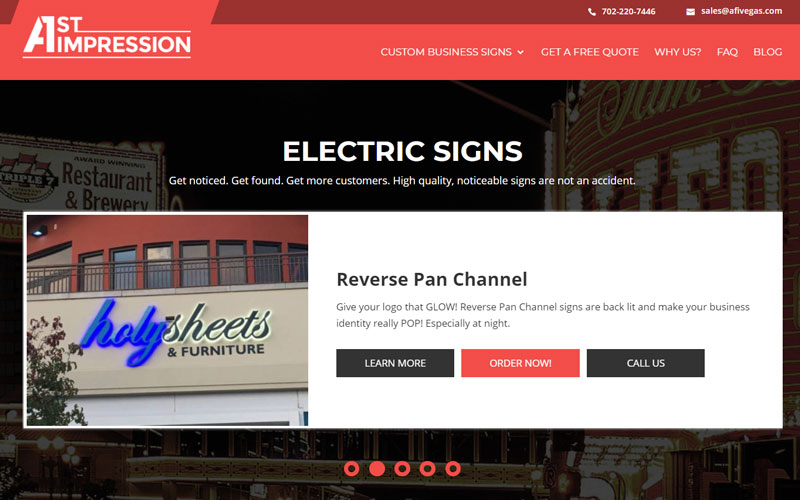 A First Impression Signs
Operating for over 30 years in Henderson, Nevada, A 1st Impression Signs is a family owned enterprise with deep roots. Offering top quality signage, hand built and professionally installed, they needed a website to reflect their commitment to quality. We shot pictures, developed a refreshed logo, and built this website with lead generation and the desired level of e-commerce functionality around a do-it-yourself banner creation.
Profitably transacting business on the web is no accident. From how people get to you to preventing shopping cart abandonment, and generating as many sales from the most people possible.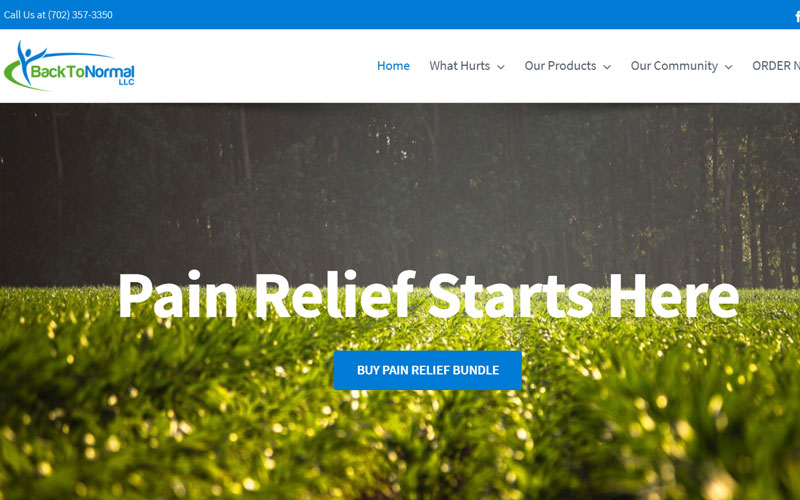 Back to Normal Arnica Cream
Originally running on the Shopify platform, Back to Normal was experiencing transactional and search ranking problems. They were also hindered in creating their vision of a fully community-driven, guide-based informational website, coupled to a one click ordering transactional engine. We proposed and provided a full e-commerce solution built on a WordPress platform. We built it to be highly customized and extremely flexible, while inventing several programming tools. Coming soon to the site are video guides and a lot more products.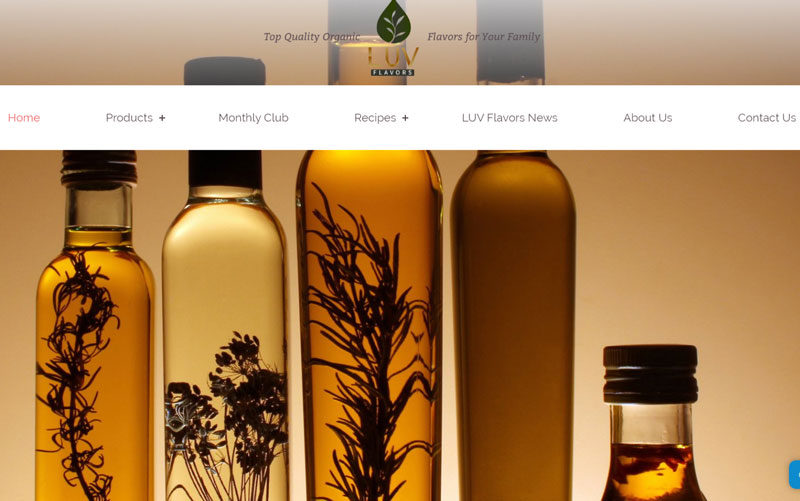 LUV Flavors
A start up olive oil company came to us looking for a fast turnkey solution to get an e-commerce store live on the web. We started with Shopify, the client's preferred platform and built out all branding, including logos and product labels. We carefully curated plug-ins and other integrations to make the shopping experience and the user experience as easy and intuitive as possible. We also built inventory integrated social media, eBay, and Amazon channels to further market their products.
Houdini
With brick and mortar locations in 4 major  Vegas casinos, as well as on Pier 39 in San Francisco and in Disneyland, store fronts were driving their overall sales. The website had aged and was not performing well on any devices. In years past the site had been a major money maker. Today e-commerce sales of magic tricks and props are a billion dollar industry, so this client was missing a massive revenue stream. This new site is a full Magento build out with over 1,200 products and 90 tutorial videos. We are in the process building out a pay wall for other instructional videos. The development site is a full re-brand and responsive layout that stays true to the Houdini image while updating and modernizing the look.