Google Ads Makes Money Even When You Don't Get a Single Lead.
We Help You Avoid the Pitfalls of Pay Per Click.
This problem affects everyone: PPC advertisers buy the click but don't harvest the sale/lead. It's easy to think that a click should equal a sale but the buying journey is far more sophisticated than that.
There are more businesses buying click ads than ever (+24% year over year).
Click costs are higher than ever (+14% year over year).
People clicking paid search ads is lower than ever (down from 20% to less than 9%).
According to Google a "good" conversion rate from paid ads is 4%.
Our strategies raise conversion as high as 34%.
Call us. Our team sold $10 million on websites in the last 12 months. We will help you too. Ask about our FREE Ads audit.
Put money in your pocket instead of Google's.
A Recent Client Report – $1.32 Per Conversion With A 34% Conversion Rate!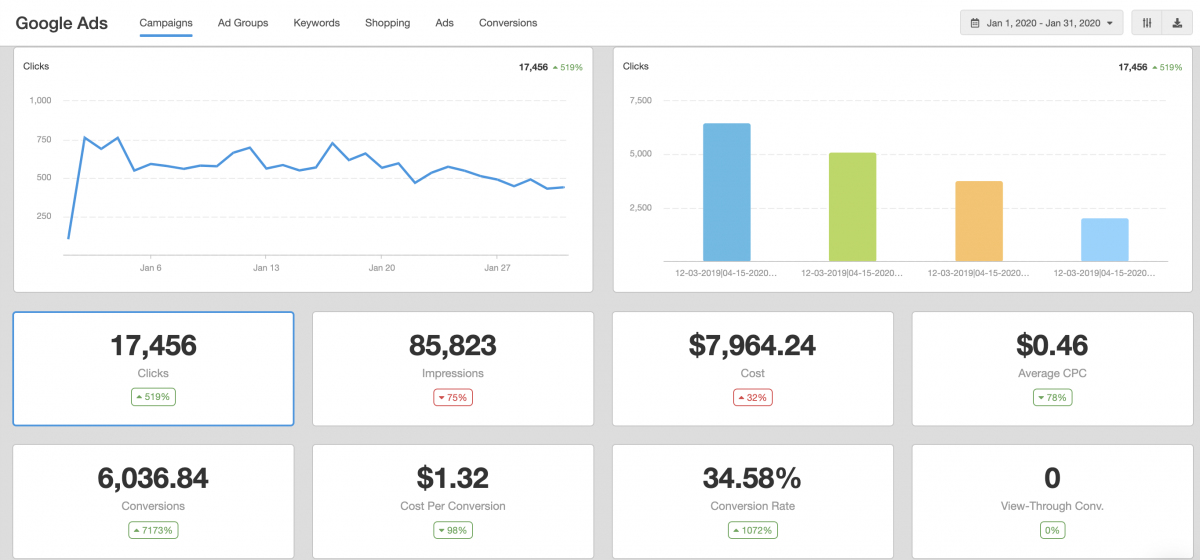 How Our Experts Can Help You
We use a CONVERSION based optimization system so you show up in the right searches at the right times.
We raise your ads and landing page quality score which saves you money AND gets you better qualified traffic.
We make sure your landing pages are optimized to raise the conversion rate from all traffic.
The "click" is just the beginning. Conversion Based Management takes sales & leads up from 2% to 30% or more. 
What Is a Conversion Based Optimization System 
The right analytics and tracking tying Google ads to the customer buying journey
Using sales data to shape campaign decisions
Making sure ads are highly relevant to facilitate raising your quality score
Making sure the click through promise on the landing page is kept by displaying ads with the highest likelihood of converting
Removing barriers to sales like extra clicks
Harvesting the sale after the click by using landing page tactics, other media, and strategies to raise yield
You paid for that click; you deserve the sale.
Make Google Ads Work for You
Pay per click (PPC) is a huge money maker for Google, but most importantly, it is a valuable tool for commerce. And the really good news is "what's in it for you."
PPC is a paid advertising service from Google Ads designed to reach people the moment they want to buy. When done successfully it causes you to get more phone calls, website hits, and/or in store foot traffic. Google calls it ZMOT (Zero Moment of Truth). It is a clever way of saying Google is most likely the last stop. 
The right strategy places the right message in front of the right buyer at the right time.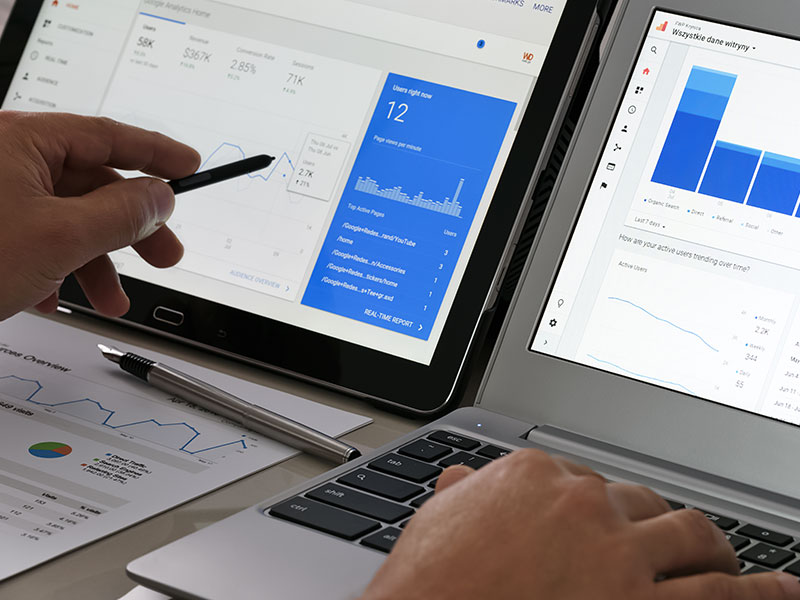 Cost of Sale Is Often Lower with Our Help
What is a sale worth?
Ad impressions are free and clicks can be as low as fifty-cents. That ad impression at the top of search is a golden moment to:
Secure your opportunity
Drive your brand awareness to the right buyer at the right time
Create a potential customer for life
Take an opportunity from a competitor
With our help a pay per click strategy brings you opportunities, leads, and sales at a lower cost than most other channels.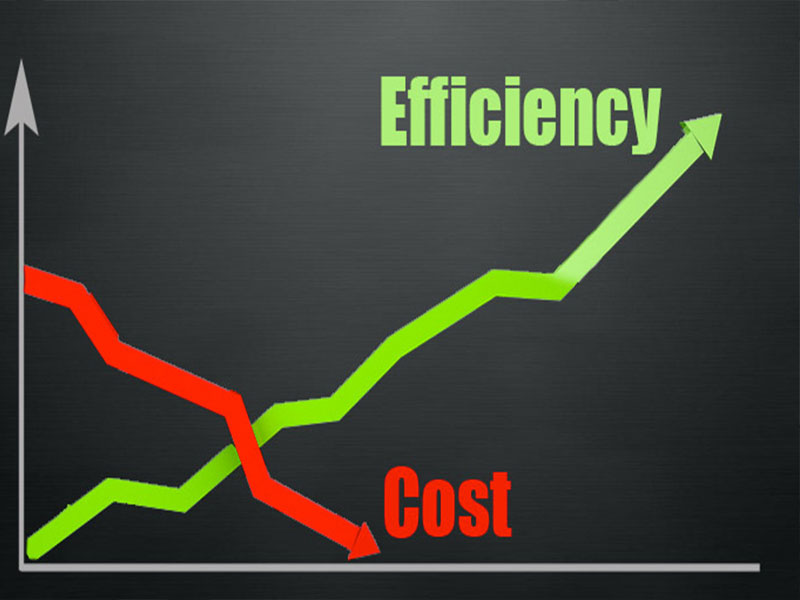 Google Paid Search Explained
There are four basic types of Google ads:
Listing ads

Featured map ads

Shopping ads

Professional service ads
A person types or dictates what they're looking for into their browser and Google pops up a webpage with what its robots have determined are the best answers. These "best" answers are the contents of the map listings that highlight the places nearest the searcher and ten organic results. Google does not get paid for map listings and organic results so they show ads first whether they be a featured map listing, listing ads, shopping ads, or professional services ads. Often, they show several different types of ads at the same time and add other search related content to the results page, pushing organic results farther down the page below the fold. 
Why would Google push down the Organic results which are often the "best"?
Because google gets paid for clicks on ads.
Ads offer opportunities:
Impressions are FREE
The person seeing your ad searched for what you sell so they are the right person
Clicks cost money, but again, the click came from someone shopping for what you sell
How our experts help
We take a holistic approach making sure that your ads perform better by using a CONVERSION based optimization system. The right ads show up in the right searches at the right times. They have a higher quality score which saves you money
Why Our Strategy Works for Our Clients 
We work the whole buyer funnel regardless of the length of the buying cycle:
Drive AWARENESS of your product or service. 

Get shoppers INTERESTED in it so they seek more information. 

Increase the DESIRE for it. 

Lastly, they take ACTION to acquire it.
There are many clicks throughout this journey. We help you get the clicks that turn into sales. 
Quality Matters
Google still makes sure ads are highly relevant by using a Quality Score. Your ad's Quality Score can mean higher placement and lower cost for every click.
This quality score is a combination of the keyword relevance as it relates to the ad copy and the landing page. In simplistic terms, a Burger King ad would have an extremely low quality score in a search for "Pizza."
Businesses set a budget with Google and bid to get space in the paid ad area based on searched words that best describe their business. These are known as "keywords." Some types of businesses pay much more than others in paid search advertising because in that particular geographical area or market segment a lot of businesses are competing to get exposure there. In Las Vegas, for example, when people search for "personal injury lawyer" the cost per click is expensive and well over $130, while the cost for "shoe store" clicks are only $1 each or less. The nice thing is that your business gets FREE advertising presence and visibility when appearing in the cost per click section as long as people do not happen to click on you.  Of course, people who do click on you are usually quite interested. Closing or success rate tends to be higher than what is normally experienced. PPC is good for reaching people who are actively shopping, but not necessarily good for building brand awareness and image or for correcting misperceptions about your business. Be careful. Pay per click is a drug and like all drugs should be taken carefully because, indeed, there are bad side effects.
The PPC Process Simplified
Create an ad. The wording has to be short, catchy, and tell customers what you do for them or want them to do. Compelling pictures or offers help.
Set a budget that is adjustable at any time. But be forewarned. Google captures your credit card and duns at its discretion.
The fun is that you do not pay for displaying the ad! You only pay when customers take actions. Basically, you get free visibility. Google charges you when someone clicks on your ad, visits your website, or gets directions.
Adjust the geographical area you want to reach. It can be as vast as worldwide or small as a few square blocks around you.
You can even dial in who is most likely to see your ad based on things like their sex, income, educational level, lifestyle, and interests.
The Experts at NOTICE U MARKETING are affordable and effective. 
Paid Search
Paid search is a process where you bid money to appear in paid search results when people look for your product or service category. When you are one of the highest bidders for a certain key word you will appear as 1 of the top 3 businesses listed in the paid section at the top of lists on Search Engine Results Pages (SERP). How well your business performs in paid search is a result of two things: 1) how much you are willing to bid to be the answer to certain keywords and 2) your quality score. Quality score is Google's biased estimation of how relevant your website's keywords, images, and landing pages are to the searcher. To improve your quality score, you want to have excellent keywords and write terrific content that's original and informative. Quality scores help Google keep irrelevant answers from oozing in and contaminating the good answers they want to furnish to searchers. A good digital agency will help you determine your quality score. They'll help you refine keywords, and most importantly, they'll improve your quality score. This is important because as your quality score improves you will pay less in bidding for keywords against other companies who have worse quality scores.
Paid Ads
Those banner ads and square and rectangular spaces we spoke briefly about above are also available for purchase by advertisers. You can place static ads or video in them. It can be extremely advantageous to have your marketing message on a Search Engine Results Page that deals with topics concerning your product and service. We implement these ads as strategy requires, sometimes also employing the Google DV360 solution. More on that here. 
Digital Marketing Company Help
Rely on Notice U Marketing to get you engaged with the best and most effective Google Ad products. A sharp company will craft catchy and effective ads, continually analyze the performance, and continue to tweak things to get them working better all the while reducing your overall cost for customer acquisition. Contact us today for a free assessment and a meaningful discussion about your goals and criteria for performance.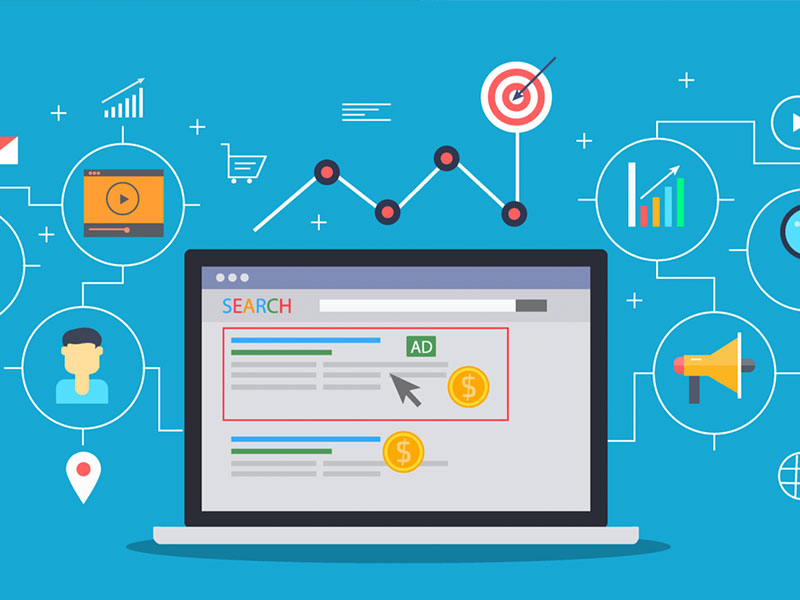 Why Professional PPC Help Matters